John's New Jersey EMS page
This is an unofficial site of EMS and other emergency service resources in New Jersey. Included are news, events, training announcements and links to home pages of first aid & rescue squads, fire departments, paramedic units, hospitals and other sites of interest to the emergency services community.
If you know of a site or event that should be included here, please send me Email at john@hilltopassociates.com
While you're here, why not sign my Guestbook ?
[ What's New! | News | Events | Education | Links | Safety Alerts | Internet | Discussion Group | Guestbook ]
---
LOSAP is a Hit Across New Jersey [full story]


"The E.M.S. WebRing"
Enter the ring and E.M.S. Cyberspace, but please bookmark this site first. Thank you.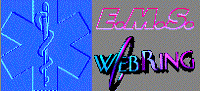 Follow the ring for "quality informative E.M.S. relates sites!"
[ Next Site | Skip a Site | The Next Five Sites | The Previous Site | A Random Site ]
---
New on this Site
Check out the new NJEMS discussion group.
A new Nationwide Poison Control number 1-800-222-1222 is now operational.
Our Education page has been updated.
Lost your web site recently? Check out our new Internet page.
Please see the News Page for information about Defibrillator Grants and discounted Internet access & web hosting!
Also check out the latest public safety events at Events Page.
If you know of an event, parade, wetdown, training class or news item that should be listed here, please send me Email.

---
Please Sign My Guestbook. You may also View My Guestbook
---
This site was updated on 7/1/2008.
---
This site is maintained by John Staunton, a New Jersey EMT-D/Instructor & firefighter.
[ What's New! | News | Events | Education | Links | Safety Alerts | Internet | Discussion group | Guestbook | Top of Page ]